Hey there, fellow runners! Joe here, and I must admit I'm a little late to the party when it comes to sharing my thoughts on the Barcelona Marathon that took place on March 19th. The past few weeks have been a whirlwind, and I've been swamped with work, leaving me with little time to update the blog. But fear not! I'm here now to fill you in on all the exciting details from that amazing race day in the beautiful city of Barcelona.
Before we dive into the heart of the matter, I should mention that I had to take a two-week break from my regular training routine prior to the marathon. As any seasoned runner knows, pushing yourself too hard can lead to injuries, and I wanted to make sure I was in the best shape possible for this event. It wasn't an easy decision, but I believe it was the right one, as it allowed my body to recover and prepare for the challenges that lay ahead. So, without further ado, let's talk about the Barcelona Marathon!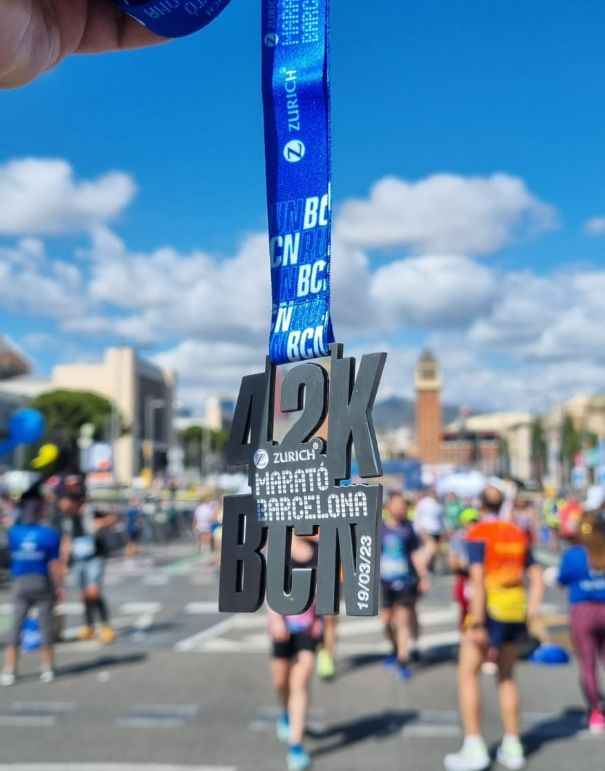 The Scenic Barcelona Marathon Route
The Barcelona Marathon is known not only for its exhilarating race but also for the breathtaking course that takes runners through the heart of the city. As I embarked on this unforgettable journey, I was mesmerized by the stunning architecture and historical landmarks that decorated the route. Starting at the iconic Plaça d'Espanya, the course led me past the grandiose Magic Fountain of Montjuïc, through the bustling streets of Passeig de Gràcia, and by the awe-inspiring Sagrada Família.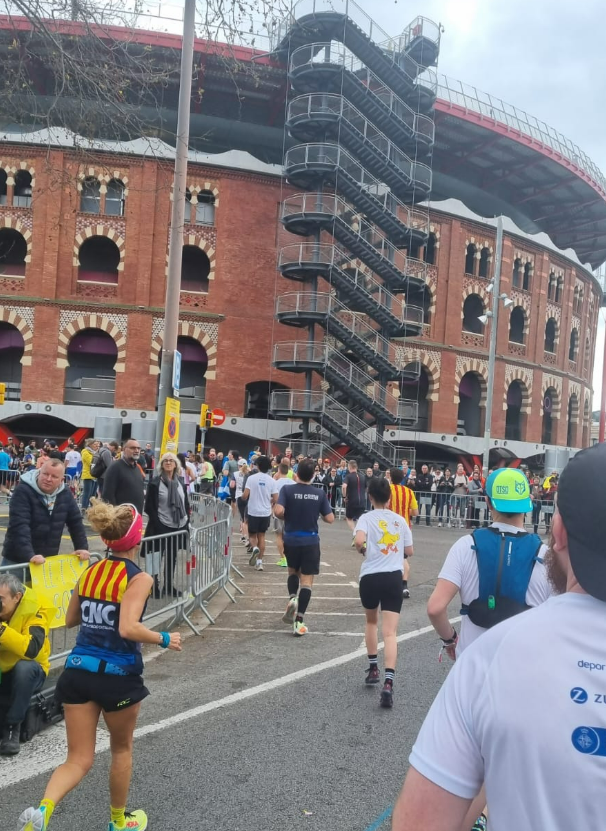 Running through these streets, I couldn't help but feel inspired and motivated by the beauty of Barcelona. The marathon route showcased the city's vibrant culture and rich history at every turn, making the race not only a test of physical endurance but also an incredible sightseeing experience. The cheering crowds and local musicians lining the course further added to the atmosphere, making the Barcelona Marathon a truly unique and unforgettable event that I'll cherish for years to come.
Top Performers & Inspiring Stories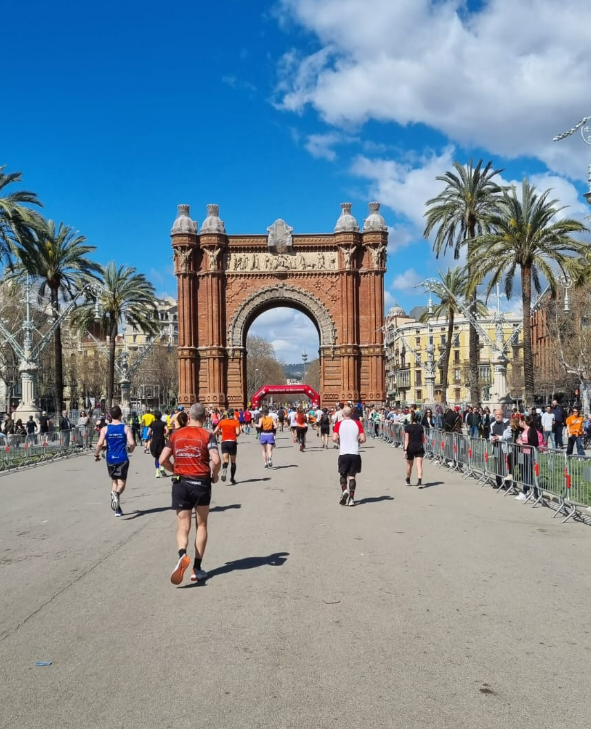 The 2023 Barcelona Marathon showcased exceptional performances and uplifting stories of triumph. Among the top finishers in the men's category, a fierce competition unfolded, with the winner crossing the finish line in an astounding time. Similarly, the women's race saw an exceptional athlete claim victory with an impressive performance. These elite runners demonstrated incredible determination and skill, proving once again that the human spirit knows no limits.
Aside from the professional athletes, the marathon provided a platform for countless inspiring stories. One such tale was that of a local firefighter who completed the race in full gear, raising awareness and funds for a children's charity. Another remarkable participant was an 80-year-old marathon veteran who showed that age is just a number, crossing the finish line with an infectious smile and determination. These stories of perseverance, courage, and selflessness serve as a reminder that the Barcelona Marathon is not only about personal achievements but also about the power of community and the shared experience of overcoming challenges together.
Post-Race Events & Runner Experiences
Barcelona Marathon was more than just a race; it was a vibrant celebration of running, camaraderie, and the city's rich culture. Post-race events and activities were organized to ensure that runners and their supporters could make the most out of their marathon experience. At the finish line, participants were greeted with an abundance of food, drinks, and entertainment, providing a well-deserved opportunity to recharge and bask in their achievements. Local musicians filled the air with lively tunes, while various booths offered massages, merchandise, and interactive experiences for everyone to enjoy.
Runners had the chance to share their personal experiences and stories, forging connections and fostering a sense of community among participants from all walks of life. Many spoke of the overwhelming support they received from the enthusiastic crowds lining the streets of Barcelona, cheering and offering encouragement throughout the course. Others recounted the memorable sights and landmarks they encountered during the race, such as the Sagrada Família and Barceloneta. This unforgettable blend of athletic achievement and cultural immersion made the 2023 Barcelona Marathon an experience that will be cherished by runners and supporters alike.
My 4-Week Specialized Training for the 2023 Barcelona Marathon
In preparation for the 2023 Barcelona Marathon, I embarked on a 4-week specialized training program designed to help me perform better than my previous marathon in Paris in 2022. The program's focus was on building my endurance and speed, with a combination of targeted workouts, hill training, and interval sessions. The results spoke for themselves: I was able to complete the Barcelona Marathon faster than my Paris Marathon, a testament to the effectiveness of my training regimen.
Adaptation was a key aspect of my training, as I learned to fine-tune my routine based on my progress and how my body responded to different exercises. While my training program was successful overall, I realized there was room for improvement, particularly in incorporating more long runs exceeding 30km. These longer runs would have provided an even better foundation for tackling the marathon distance. Nevertheless, I was pleased with my performance in Barcelona and grateful for the lessons learned during my 4-week specialized training journey. These insights will undoubtedly inform my preparations for future races and help me continue to grow as a runner.
The ASICS MagicSpeed: My Marathon Shoe of Choice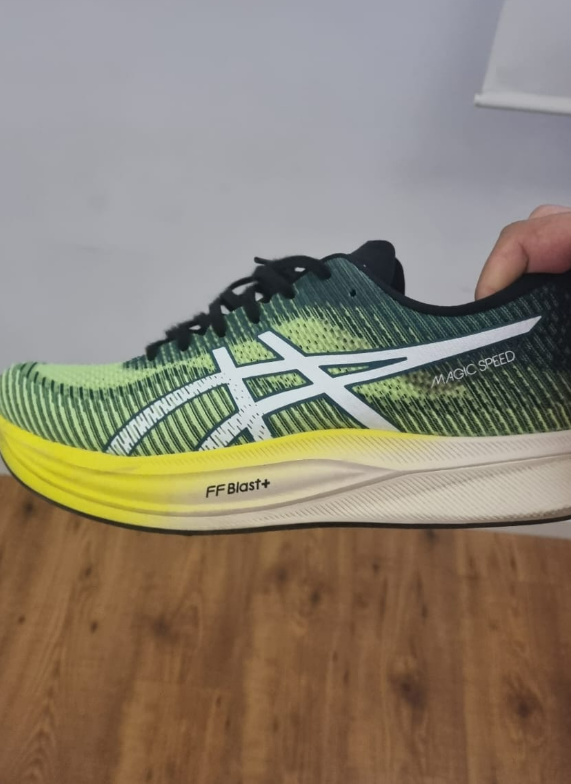 For the 2023 Barcelona Marathon, I chose to run in the ASICS MagicSpeed, a top-tier performance shoe that has gained significant popularity among marathon runners. This shoe was designed specifically to enhance speed and efficiency, which was precisely what I needed to improve my marathon time compared to my last race in Paris.
The ASICS MagicSpeed features an innovative carbon fiber plate, which provides an excellent energy return and propulsive feeling with each stride. The shoe's lightweight, yet durable construction also played a critical role in keeping my legs feeling fresh throughout the race. The responsive FlyteFoam midsole, combined with a breathable upper, made for a comfortable and efficient marathon experience.
Not only did the MagicSpeedcontribute to my improved performance in Barcelona, but it also held up exceptionally well during the weeks of intense training leading up to the event. I would highly recommend the ASICS MagicSpeedto any marathon runner looking for a shoe that can provide an edge on race day, while also being comfortable and reliable during training.