Joma, the Spanish brand, designed the latest innovation, the Joma R3000, for serious runners. If you want to improve your performance in mid to long distance races, this shoe is perfect for you. Its lightweight design makes you feel fast and nimble on the road.
What sets the Joma R3000 apart from other running shoes is its incorporation of a carbon fiber plate. This technology is what gives the R3000 its distinctive flying style and provides runners with a responsive and energetic ride. The carbon fiber plate helps to transfer energy from the ground to your feet, making it easier to maintain your pace and push yourself further, the carbon fiber plate also helps to reduce muscle fatigue and prevent injury. This is because the plate acts as a spring, absorbing the impact of each step and reducing the amount of stress placed on your muscles.
This makes the R3000 an ideal choice for runners who want to improve their performance and push their limits. Furthermore, the carbon fiber plate also provides a more stable platform for your foot, allowing you to maintain better control and balance as you run. Whether you're a seasoned runner or just starting out, the Joma R3000 is a great option for anyone looking to up their game and experience the benefits of cutting-edge technology in their running shoes.
I also make sure to thoroughly test each shoe before writing a review. I believe that it's important to get a real feel for the shoe and to see how it performs over time. That's why I make a point to use each pair for at least 120 km before writing a review. This gives me an accurate idea of the shoe's comfort, durability, and performance, and allows me to provide my readers with an informed and honest opinion. All of the photos in my reviews are taken of the shoes after they've been used for the full 120 km, so you can see the wear and tear for yourself.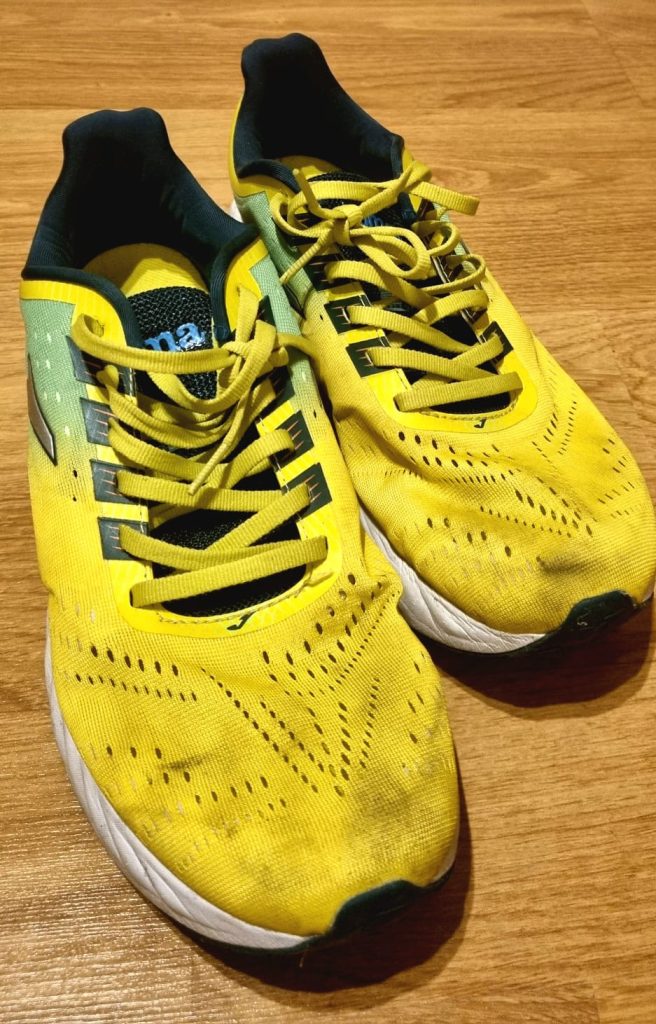 The Joma R3000 impressed me with its combination of high-tech features and comfort. The shoes offer excellent cushioning, making them perfect for long runs and races. They also have a sleek and stylish silhouette that will make you stand out from the crowd.
After using the Joma R3000 for a few runs, I decided to remove the tongue support in the shoe. I found that this modification made the shoe even more comfortable for me, providing a more snug and personalized fit. The removal of the tongue support did not impact the performance or stability of the shoe.
Last weekend I ran the Barcelona Half Marathon with the Joma R3000 and that was an incredible experience. I had been training with these shoes for a few weeks leading up to the race, and I was impressed with how well they performed. The lightweight design and cushioning made it easy for me to tackle the 13.1-mile course, and I felt comfortable and supported throughout the entire race.
Training for a half marathon while being overweight can be a challenge, but with the right gear, it can make all the difference. After gaining 10kg during the pandemic, I've been on a mission to get back in shape and improve my running performance. The shoes offer both comfort and performance, making it easier for me to tackle my training runs and improve my speed.
The lightweight and cushioning design of the R3000 has made a noticeable difference in my overall running experience, and I'm confident that it will continue to help me achieve my running goals.
The carbon fiber plate on the Joma R3000 impressed me with its noticeable increase in speed and energy efficiency. I got a great boost in my training from the R3000, even though it was designed for lighter, faster runners and I'm currently overweight. The shoes helped me push harder and run faster without sacrificing comfort or stability.
I was able to complete the Barcelona half-marathon with a good time for the actual situation, and I know that the Joma R3000 played a big role in that achievement. Overall, I would highly recommend these shoes to any runner looking to improve their performance and reach their goals.
Strengths
Some points to choice the Joma R3000
The lightweight design of the Joma R3000 makes it easier for runners to move quickly and maintain their pace.
The carbon fiber plate provides a responsive and energetic ride, helping you to push yourself further and maintain your pace.
The R3000 offers a comfortable fit, designed with runners in mind and providing a plush and supportive feel.
Durable and long-lasting materials used in the construction of the shoe (using by 120 kms, and it's like new)
Weaknesses
Not too good at all
Price – The Joma R3000 can be more expensive than other running shoes on the market, which may not be affordable for all runners.
Narrow fit – Some runners have reported that the R3000 has a narrow fit, which may not be suitable for those with wider feet.
Limited color options – The R3000 is currently only available in a limited number of colors, which may not be suitable for all runners.
May not be suitable for runners with wider feet, as the fit can be narrow.