Winter has arrived in Barcelona and for many runners, this means that outdoor training can become a challenge. But, with the help of technology, you can still continue to train and stay motivated. I've recently started using Zwift on my indoor treadmill workouts and it's been a game changer.
Training for the Barcelona Marathon on March 19th can be a challenge, especially during the winter months when running outside is not as appealing. That's why I've been relying on the virtual training platform, Zwift, to help me stay on track with my training goals. By using Zwift three times a week on the gym's treadmill, I can keep my body in peak condition and properly prepare for the marathon. With this training plan, I'm confident that I'll be ready to tackle the Barcelona Marathon come race day.
Zwift is an online platform that allows you to run and ride in a virtual world alongside other athletes from all over the world. It's perfect for those days when you can't or don't want to brave the elements for a run. The virtual environment provides a fun and interactive experience that helps to keep you engaged and motivated during your indoor training.
I've been using Zwift in combination with my Garmin Fenix 6 and Stryd to track my indoor runs. The Fenix 6 provides me with all the data I need, including my heart rate, pace, and distance. And, the Stryd gives me power and running efficiency data, which is especially useful when training on a treadmill. By using all three devices together, I'm able to get a complete and detailed picture of my indoor training sessions.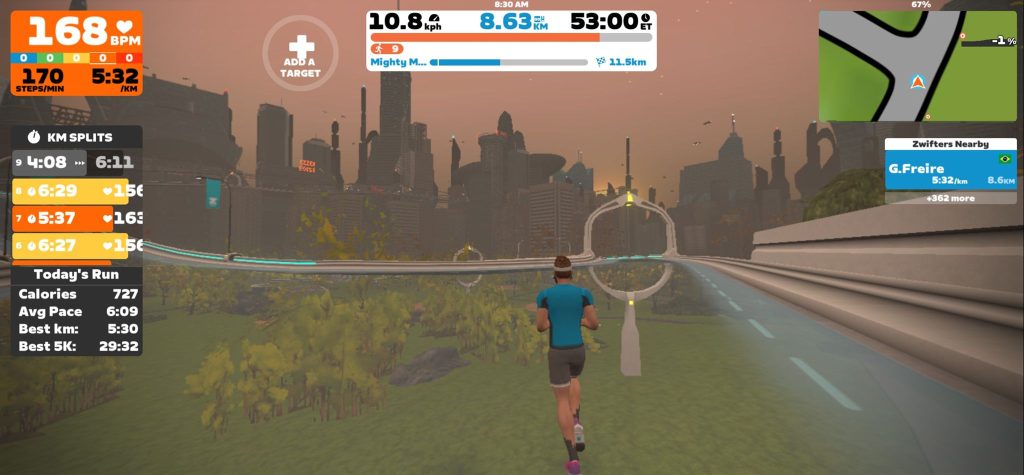 One thing to note about Zwift is that while it does require a subscription for cycling, you can use it for running for free. This is great for those who are looking to train on a treadmill and want a more interactive and engaging experience, without having to pay for a monthly fee. By using a compatible device such as a Garmin Fenix 6 and a power meter like the Stryd, you can track your progress and see real-time data on your performance. This allows you to accurately measure your progress and make adjustments to your training plan accordingly.
Overall, I'm extremely happy with my decision to start using Zwift for my indoor training. It's a great way to stay motivated and continue to make progress, even when the weather outside isn't ideal for running. Whether you're a seasoned runner or just starting out, I highly recommend giving Zwift a try for your indoor training.
Step by step guide on how to use Zwift:
Create an account: First, go to Zwift.com and sign up for an account. You will need to provide your basic personal information, such as your name, email address, and password.
Download the software: Once you have created an account, you can download the Zwift software to your computer, tablet, or smartphone. The software is available for Windows, Mac, iOS, and Android.
Connect your device: In order to use Zwift, you will need to connect a compatible device to your computer. I'm using the Garmin Fenix6 and a Stryd, but you can find a list of compatible devices on the Zwift website.
Set up your profile: Once you have connected your device, you will need to set up your profile. This includes adding your weight, height, and other personal information. You can also customize your avatar, which will be your on-screen representation while you are using Zwift.
Choose your workout: Zwift offers a variety of workouts, from short and sweet to long and intense. You can select a workout based on your goals, experience level, and the amount of time you have available.
Start your ride: Once you have selected a workout, you are ready to start riding. You will be transported to a virtual world, where you can ride with other Zwift users from around the world.
Monitor your progress: As you ride, Zwift will track your performance and give you feedback in real-time. You can see your speed, distance, and other metrics on your screen.
Complete your workout: With Zwift, you'll receive a comprehensive summary of your workout performance when you're done. Use this data to monitor your progress and make any necessary adjustments to your training plan. Plus, Zwift seamlessly uploads your activity data to Strava or Garmin Connect.
With these steps, you should be able to start using Zwift and get the most out of your indoor training sessions. Whether you are a seasoned runner or just starting out, Zwift is a great tool for improving your performance and keeping your training on track.