So, I'm ramping up my training for the Barcelona Marathon and this weekend I'm taking on the logicomcyprusmarathon. This race is going to be a test for me because I hear the terrain is hilly and can be challenging. If you're planning to run the Cyprus Marathon and Half-Marathon, make sure you incorporate hill training into your preparation, so you're ready for the course.
The Cyprus Marathon and Half-Marathon takes place on the beautiful island of Cyprus and offers a unique and challenging course for runners of all levels. The route takes runners through historic landmarks and stunning scenery, including the Pafos Castle and the Mediterranean Sea. Whether you're looking for a personal best time or just a memorable running experience, the Cyprus Marathon is a must-do event.
In addition to the full marathon, the event also offers a half-marathon and a 10K race. This provides options for runners of different abilities, so that everyone can participate in this exciting event.
The Logicom Cyprus Marathon is known for its well-organized and supportive atmosphere, with plenty of aid stations and cheering spectators along the route. The event also offers a post-race party, where runners can celebrate their achievement with music and food.
If you're looking for a new and exciting marathon experience, consider adding the Cyprus Marathon to your list of races to run. It's a great opportunity to explore the beautiful island of Cyprus while also challenging yourself as a runner.
What's included in the entry:
Technical Running T-shirt by RONHILL
Technical Running Socks by HILLY (for Marathoners)
Race Number, Micro-Chip Timing and Pins
Draw-string bag and luggage label
Ice Power Gel sachets
Grenade Oreo Protein Bar
Maurten GEL100 (for Marathoners)
Lucozade
Voucher of 20 euros from 361°
Voucher 20% from Holland & Barrett
On the Course:
Pacers (for Marathon & Half-Marathon)
Fluid Stations every 3km (Water every 3km and Electrolytes & Sponges every 6km)
Electronic Split Timing & Photographers
Toilet facilities
Bananas
Maurten GEL100 (for Marathoners)
Medical and Ambulance support
Live Tracking
At the Finish:
Medal for all finishers
Trophies for Men's and Women's age group winners (except the 5km Fun Run)
Water, electrolytes and fruit
Beer for all participants
Post-race physiotherapy care/advice by Ice Power
Bag storage service from DHL (except the 5km Fun Run)
Live Results & Photographers
The prices for Marathon are in €65 and for Half Marathon right now are in €50
One important thing to keep in mind when participating in the Cyprus Marathon and Half-Marathon is the weather. The event takes place in March, which can have unpredictable weather. Some years the weather is sunny and warm, but other years it can be rainy and windy. It's important to check the weather forecast before the race and pack accordingly.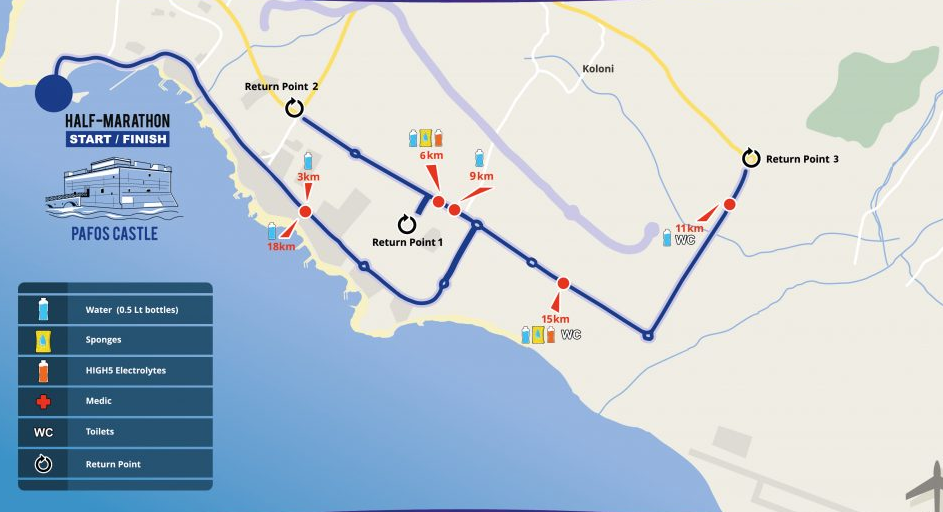 Another important aspect to consider is the terrain of the course. The Cyprus Marathon and Half-Marathon route is known for being challenging due to its hilly terrain. Runners should prepare accordingly and train on hills prior to the race.
Despite the challenging terrain and weather, the Cyprus Marathon and Half-Marathon is a great event for runners looking for a unique and memorable race experience. With stunning scenery and a supportive atmosphere, it's a race that should be on every runner's bucket list.